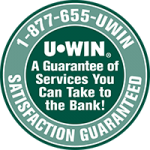 UWIN® is a consumer service resource that allows home services contractors to provide an extra level of protection and peace of mind to residential home service consumers.
When you do business with a UWIN endorsed contractor, you will have a professional working in your home who has been drug tested, background checked, and properly trained.
Our company agrees to the UWIN Code of Ethics, carries current liability and workers' compensation insurance and is licensed by all appropriate government agencies.